Lambda T3 Heat Not Burn Heated Tobacco Description:
The T3 is another 'all-in-one' device and it does look rather nifty. Available in five different colors (Army Green, Black, Golden, Red, and Blue) and two different 'styles' – aluminum only or 2.5D tempered glass and aluminum. Sporting the usual heat-not-burn feature of a puff/smoking time of approximately 5 minutes and 30 seconds or 16 puffs. A full charge on a 1500 mAh battery lasts approximately one pack of HEETS (or Parliament and Fiit) – according to the user guide – with the usual micro-USB port for charging.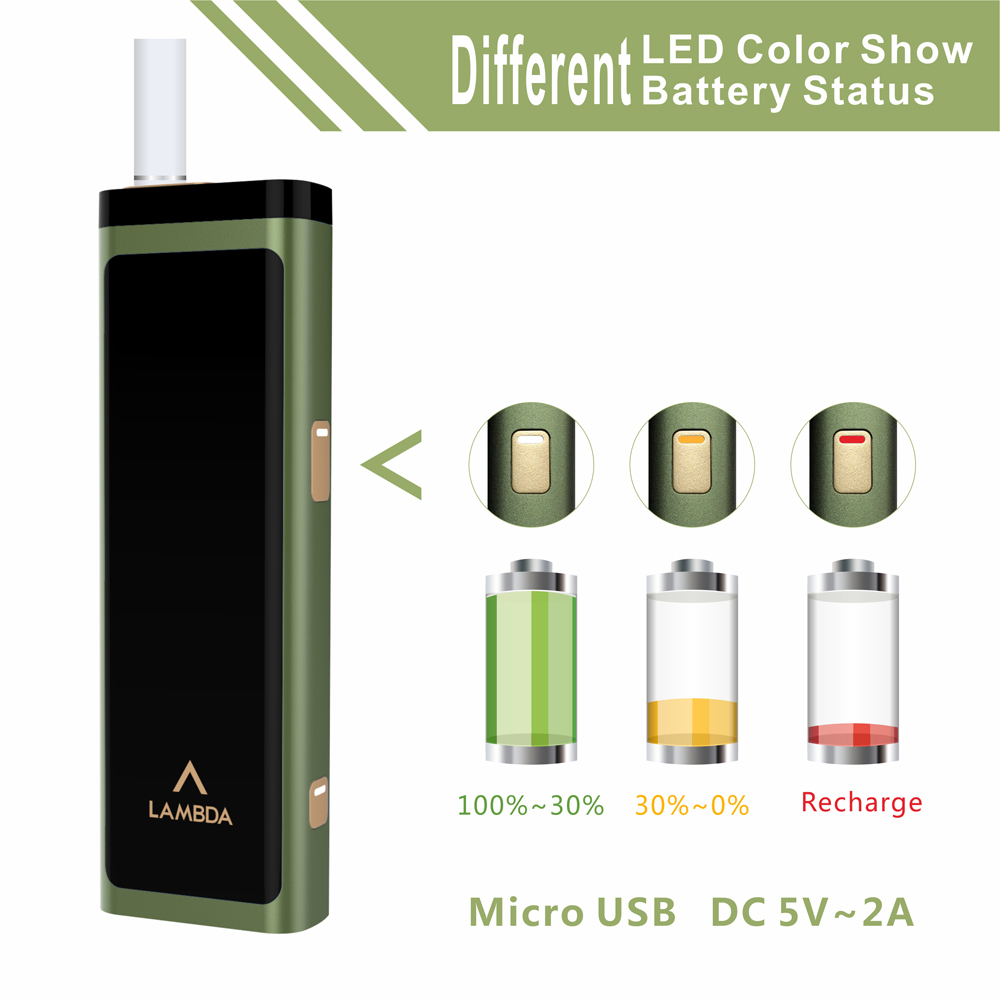 Iqos Lambda UAE Specifications:
Brand: Lambda
Item No: T3
Size:100.5*31*16.2 Mm
Working Temp. : 2 Levels (standard / High Temperature)
Heating Type: Titanium Steel Alloy Heating Blade
Battery Capacity: 1500 Mah
Input Voltage: 5v / 2a
Charging Time: About 70 Mins
Smoking Times: 18-20 Times (full Charge)
Smoking Time: 5 Mins 30s
Puffs: 16 Puffs (14+2 Puffs)
Product Size: 100.5*31*16.2 Mm
Weight: 70g
Material: Glass+aluminum Alloy+ppsu+peek
Color: Black, Red, Blue, Gold, Army Green
Lambda T3 Uae is Compatible With Heatsticks Of Iqos Marlboro, Heets, Parliament, Fiit, Etc.
HNB for IQOS – T3 Available Flavors:
Army Green
Black
Blue
Gold
Red
Professional: Each market has products suitable for each market, so our products are very different from small to big puff. The appearance is also very different, which meets the needs of customers in the global market.
All our batteries use pure cobalt cells. We offer high quality, reasonable prices, and professional service.
Cost-effective. We not only provide the highest quality products but also help you save money.
Quality Guaranteed. We take responsibility for everything we sell, we only offer high-quality products.
Fast and safe shipping. We facilitate shipping with a few different shipping companies. This means we can handle all your shipping needs, including shipping by air, shipping by sea, shipping by express, and so on.
The shipping companies we work with have long-term experience in the shipping industry and can always offer us the most cost-effective shipping solution for our customers from different countries. Providing safe and fast shipping is always one of our advantages.
Mature After-Sale Service: Long time warranty time. Fast response to defective or broken products. Provide assistance to the customer until the problem is resolved.
Quality assurance
Every production process has a special person to test to ensure quality.
Have professional engineers check the quality.
All products have passed CE, FCC, ROHS, and other certifications.
*WARNING: This product contains nicotine. Nicotine is an addictive chemical.
IMPORTANT SAFEGUARD
Please keep out of the reach of children and pets.
DO NOT use the leaking battery or other exception (hot, deformed, etc.)
The product should be placed in a low-temperature and dry environment when it is not in use
This product contains microelectronic components and sensors, which should avoid impact.
Question. Is any Lambda T3 Heat Not Burn Heated Tobacco Devie Shop near me?
Answer. Yes, Disposable Store is the best for Lambda T3 Heat Not Burn Heated Tobacco Device Shop near you.