SMOK Nord X Kit 60W Pod System 1500mAh Vape Kit Starter Kit Description:
Check out the SMOK NORD X 60W Pod System, featuring an adjustable 5-60W range, IP67 intrusion rating, and compatibility with the RPM & RPM 2 Coil Series. Integrating a 1500mAh rechargeable battery, the NORD X Pod System can deliver up to 60W of output, ideal for pairing with the RPM & RPM 2 Coils. Utilizing 6mL refillable pods, the SMOK NORD X accepts coils in a bottom press fit connection, allowing quick and easy coil changes. Constructed from durable zinc-alloy, the chassis of the NORD X is rated IP67, preventing the intrusion of dust or water, and is shock-proof, granting protection against light falls and drops. Displaying information on the side mounted OLED Display Screen, the NORD X relays critical vaping data back to the user in a legible easy to read manner.
SMOK Nord Vape Kit Specification:
Dimensions – 100mm by 31mm by 23mm
Integrated 1500mAh Rechargeable Battery
Wattage Output Range: 5-60W
Voltage Output Range: 0.5-4.0V
Resistance Range: 0.2-3.0ohm
Zinc-Alloy Chassis Construction
IP67 Rating – Water/Dust/Shock Proofing
Intuitive Firing Button
LED Indicator Light
Side OLED Display Screen
Two Adjustment Buttons
Magnetic Pod Connection
6mL Nord X RPM & RPM 2 Pod Capacity
Side Fill System – Silicone Stoppered
SMOK RPM & RPM 2 Coil Series
0.16ohm RPM 2 Mesh Coil – rated for 25-50W
0.4ohm RPM Mesh Coil – rated for 25W
Press-Fit Connection
Atomizer Recognition
Overheating Protection
8S Cut-Off Protection
Short-Circuit Protection
Low Battery Warning
MicroUSB Port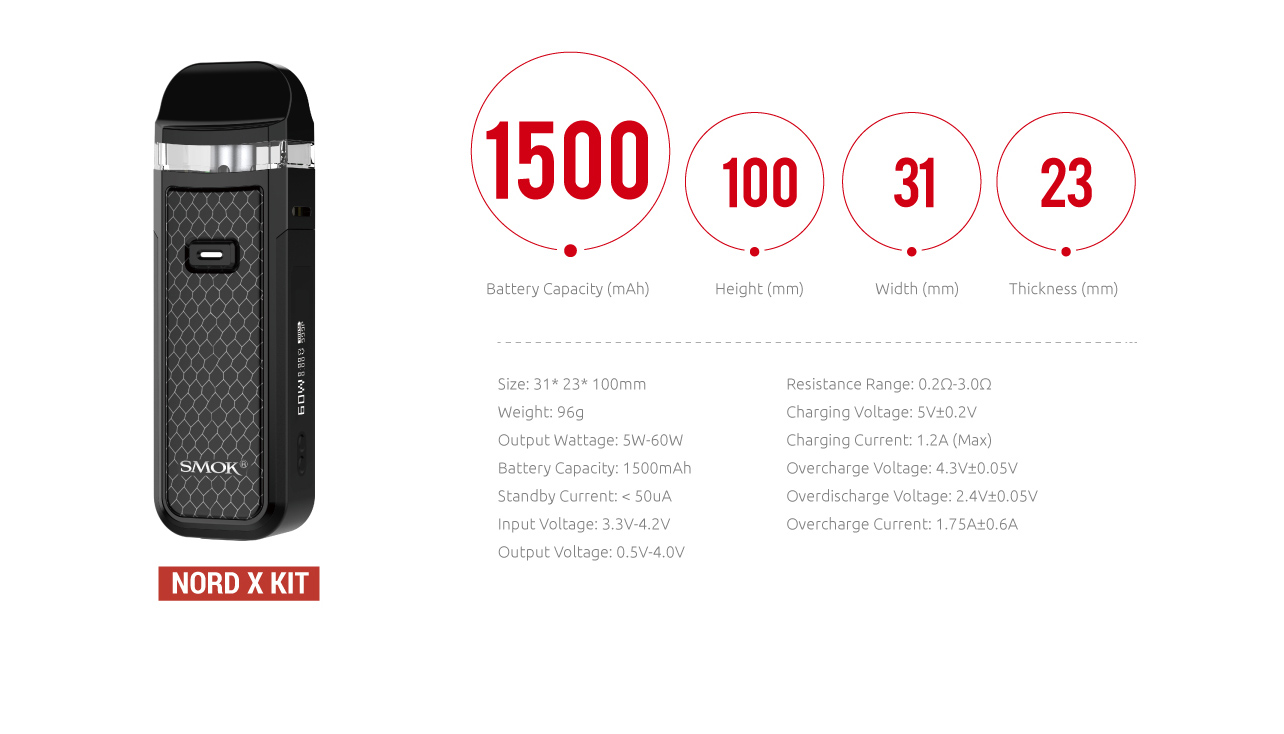 SMOK Nord X Dubai – Review:
Professional: Each market has products suitable for each market, so our products are very different from small to big puff. The appearance is also very different, which meets the needs of customers in the global market.
All our batteries use pure cobalt cells. We offer high quality, reasonable prices, and professional service.
Cost-effective. We not only provide the highest quality products but also help you save money.
Quality Guaranteed. We take responsibility for everything we sell, we only offer high-quality products.
Fast and safe shipping. We facilitate shipping with a few different shipping companies. This means we can handle all your shipping needs, including shipping by air, shipping by sea, shipping by express, and so on.
The shipping companies we work with have long-term experience in the shipping industry and can always offer us the most cost-effective shipping solution for our customers from different countries. Providing safe and fast shipping is always one of our advantages.
Mature After-Sale Service: Long time warranty time. Fast response to defective or broken products. Provide assistance to the customer until the problem is resolved.
Quality assurance
Every production process has a special person to test to ensure quality.
Have professional engineers check the quality.
All products have passed CE, FCC, ROHS, and other certifications.
*WARNING: This product contains nicotine. Nicotine is an addictive chemical.
IMPORTANT SAFEGUARD
Please keep out of the reach of children and pets.
DO NOT use the leaking battery or other exception (hot, deformed, etc.)
The product should be placed in a low-temperature and dry environment when it is not in use
This product contains microelectronic components and sensors, which should avoid impact.
Question. Is there any SMOK Nord X Pod Kit Shop Dubai?
Answer. Yes, Disposable Store is the best for SMOK Nord X Pod Kit near you.